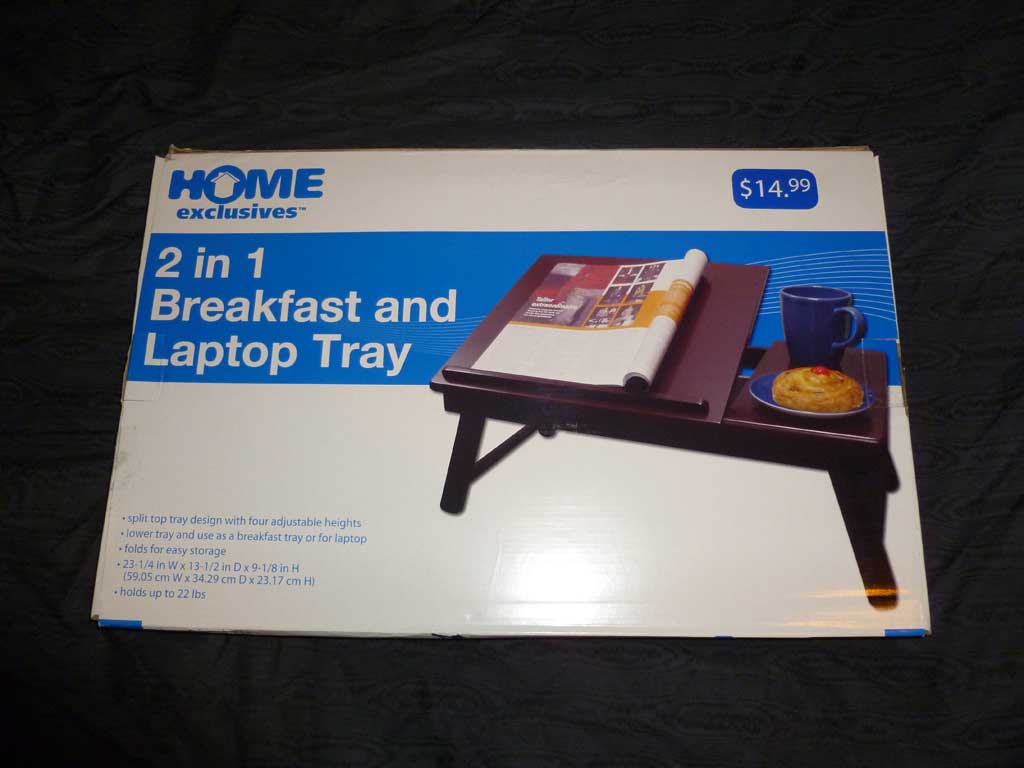 I was walking through CVS last night grabbing all the cough medicine and Afrin I could carry, no I'm not a drug cook just really sick, when I happened across this little beauty. I had been looking for a laptop tray table to use in bed, but I didn't want to spend a lot of money as I've never had one before and didn't know If I would like it. Well this one by Home Exclusives caught my eye, at $14.99 I figured what the heck, I'll give it a shot!
For the past few nights, to my surprise, I have been very pleased with it… now it's not anything fantastic, it has its flaws.
By the way, that is my Asus N10J-A2 Netbook in the photo, for size reference.
Pros

Made out of wood with a nice dark finish (My camera made it look light cherry, but it is more like a cocoa powder color).
Light and thin and can fold up nicely and slide under the bed.
Has a tilt function and has a lip on it to hold things in place.
Also has an area for your mouse if you have one.
Cons
The wood is most likely particle board.
The lip wasn't glued in ( So I'll have to re-glue it).
You have to reach around behind it to set the tilt height.
The legs don't lock to the open or closed position.
Conclusion
I am digging it so far, I have to re-glue the lip on, but that's an easy fix. Also I think If I tighten the screws that hold the legs on I can add more tension to them so they stay open and closed better. For $15 dollars plus change I'm pretty happy with this purchase, I know now that I like using the laptop tray table and maybe someday I'll even upgrade to a more expensive one when this one gives out. Until then happy computing!