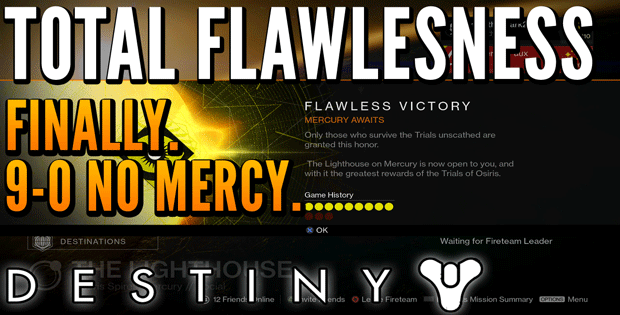 I'm so pumped about this, I have tried since Trials of Osiris opened its gates… The closest I came was 3 weeks ago going 9 and 3 with the mercy boon saving us so we could at least get all the rewards from Brother Vance at the Reef.
Welp yesterday at around 3pm EST with a group of really cool dudes from the CruciblePlaybook, we were able to calmly and coolly bust out 9 wins with 0 losses and without having to use the Mercy Boon AT ALL!
I really needed this because recently my crucible K/D and scores have just been dropping slowly, I've been having really bad games and felt like I was struggling to even land in the middle of the pack points wise on my team in crucible… So this was a much needed confidence boost.
My words of wisdom to you guys who are feeling a little doubtful about ever going Flawless, don't give up. It's just going to take that one day where you get a good string of teams to play against and you will come out victorious. It Will Happen. I've failed more times than I've succeeded. Stick with it.
Peace Guardians, Shark out.