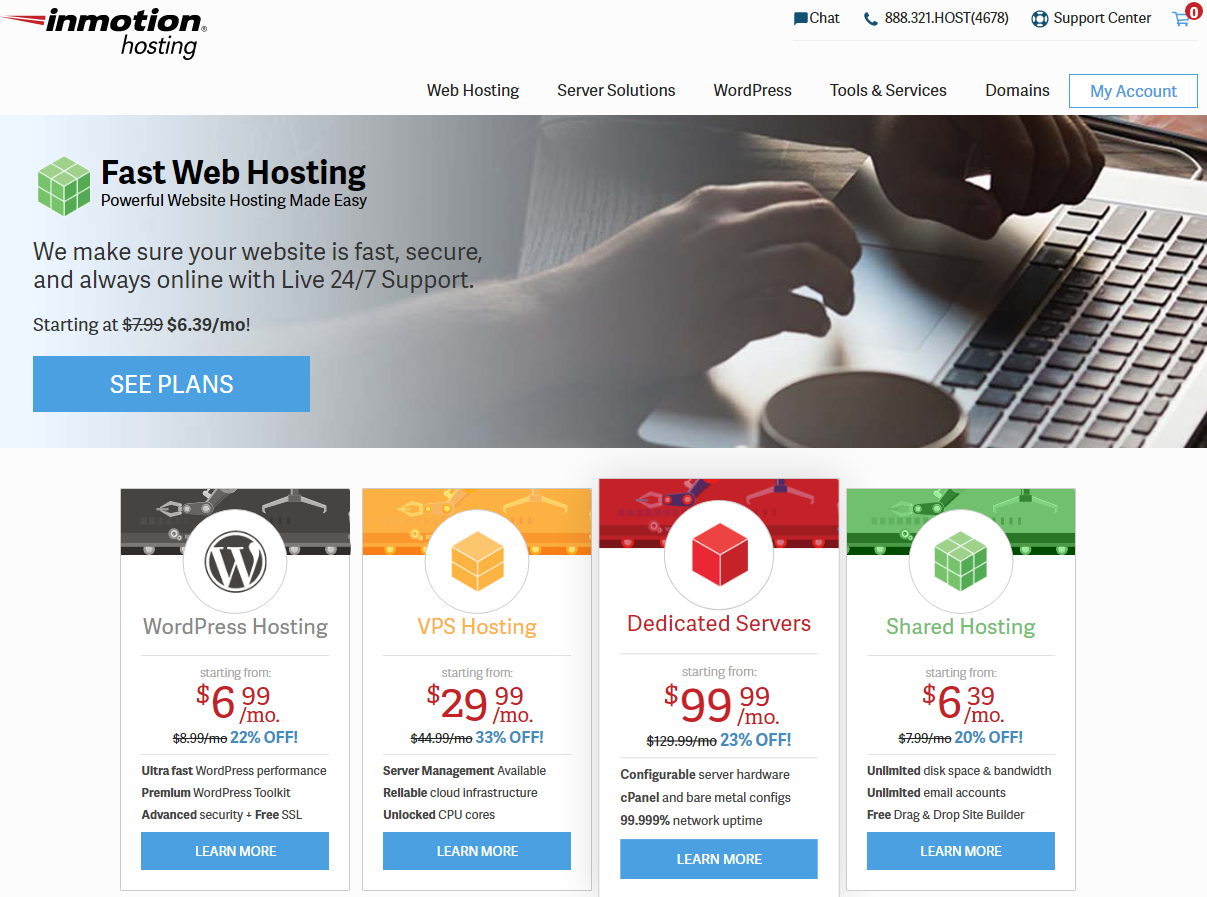 After being an InMotion Hosting customer for over 2 years now, this is my Honest review of their products and more importantly their customer support. Let me first give a little bit of back story as to why I left my previous host, Site5, of almost 10 years of great service and support.
Previous Host Backstory
When I was a Site5 customer between 2008 and 2017, I had nothing but great experiences with Site5. The owners name was Ben Welch-Bolen, and Site5 had excellent support and seemed to be more of a Mom and Pop type company. I can't find the video but I remember back in the early days of Youtube, Ben had a video of him jumping a Hummer in a Colorado snowbank. That was my hosting CEO and I was very proud.
In 2015-2016 a faceless corporation named EIG (Endurance International Group), bought Site5 for around 30 million dollars and acquired its then 86,000 customers. After that happened everything went downhill, I had a myriad of website outages, ports not working, and at one point my own IP address was blocked so I couldn't even login to my own website dashboard. Web problems are not new, they're gonna happen no matter what host you choose, but the customer support had gotten so bad I just couldn't take it anymore. It would take days for them to reply to support tickets, whereas before with Ben running the ship, I would get responses and fixes in hours. To put icing on the cake, when I decided to finally leave Site5, they wouldn't even refund me for the unused 8 months of service I had prepaid for.
EIG goes around buying up hosting companies but keeps the original branding and everything the same. So you may think Site5 is different from Hostgator because they look different and have different pricing, but they're all run by EIG!
Here is a list of the current companies EIG owns. If you value uptime and customer support, I highly recommend not doing business with any of them.
EIG Owned and Operated Companies
2slick.com
AccountSupport
A Small Orange
ApolloHosting
AptHost
Arvixe
Berry Information Systems
BigRock
BizLand
BlueDomino
BlueFur
BlueHost
BuyDomains
Cirtex Hosting
Cloud by IX
Constant Contact
Directi
Dollar2Host
Domain.com
DomainHost
Dot5Hosting
Dotster
easyCGI
eHost
EntryHost
Escalate Internet
FastDomain
FatCow
FreeYellow
Glob@t
Homestead
HostCentric
HostClear
Host Excellence
HostGator
HostMonster
HostNine
HostYourSite.com
HostV
HyperMart
IdeaHost
IMOutdoors
Impress.ly
Intuit Websites
iPage
IPOWER/iPowerWeb
IX Web Hosting
JustCloud
JustHost
LogicBoxes
MojoMarketplace
MyDomain
MyResellerHome
NetFirms
Networks Web Hosting
Nexx
PowWeb
PureHost
ReadyHosting
ResellerClub
SEOGears
SEO Hosting
Site5
SiteBuilder.com
Sitelio
Sitey
Southeast Web
Spry
StartLogic
SuperGreen Hosting
TypePad
USANetHosting
vDeck
Verio
VirtualAvenue
VPSLink
WebHost4Life
WebHosting.info
WebsiteBuilder.com
Webstrike Solutions
Webzai
World Wide Web Hosting
Xeran
YourWebHosting
My InMotion Hosting Honest Review
This company is about as close to how Site5 used to be before EIG bought them. Having great customer support was very important to me so I decided to give InMotion a call and see how they were on the phone. I only had to wait minutes before being connected with a nice knowledgeable american lady. Being involved with service and support for 20 years or so found it refreshing to talk to someone fluent in english. I'm not knocking EIG Indian call centers at all… they are wonderful folks and have always been kind and helpful, but because of cultural and language differences it can make explaining problems and getting the correct fixes strenuous.
InMotion Hosting Prices
The InMotion Hosting prices were almost double what I was paying at Site5, which wasn't a lot. I was paying something like $5 a month to Site5 and the InMotion Hosting package I wanted was around $10 a month. That is still super cheap for what you're getting, it's even cheaper now at around $8 per month, and I only run a few websites and one for a friends company so it's really all I need. I chose the Power Plan because I need to run some SQL databases for PHP projects and my buddies company is just some HTML pages, but if you are just running WordPress I highly recommend going with their WordPress package which includes WordPress specific performance optimizations.
Right now my needs in web server horsepower are pretty low, so $10 a month is pretty cheap and hits all my buttons. However if it's speed you need the products they offer can scale up to as high as you can afford, but even their packages that cost just $50 a month are incredibly powerful. Check out InMotions website for information on all the packages they offer.
InMotion Hosting Features
The InMotion dashboard is robust and has everything you will need to run your site on one page. You have cPanel for handling the backend, Softaculous for easy installation of many popular scripts like WordPress, Joomla, etc. Lastly, they even provide Domain registration services at a competitive price of $12. However you do have to pay extra for domain privacy unlike Google domains which includes domain privacy for free.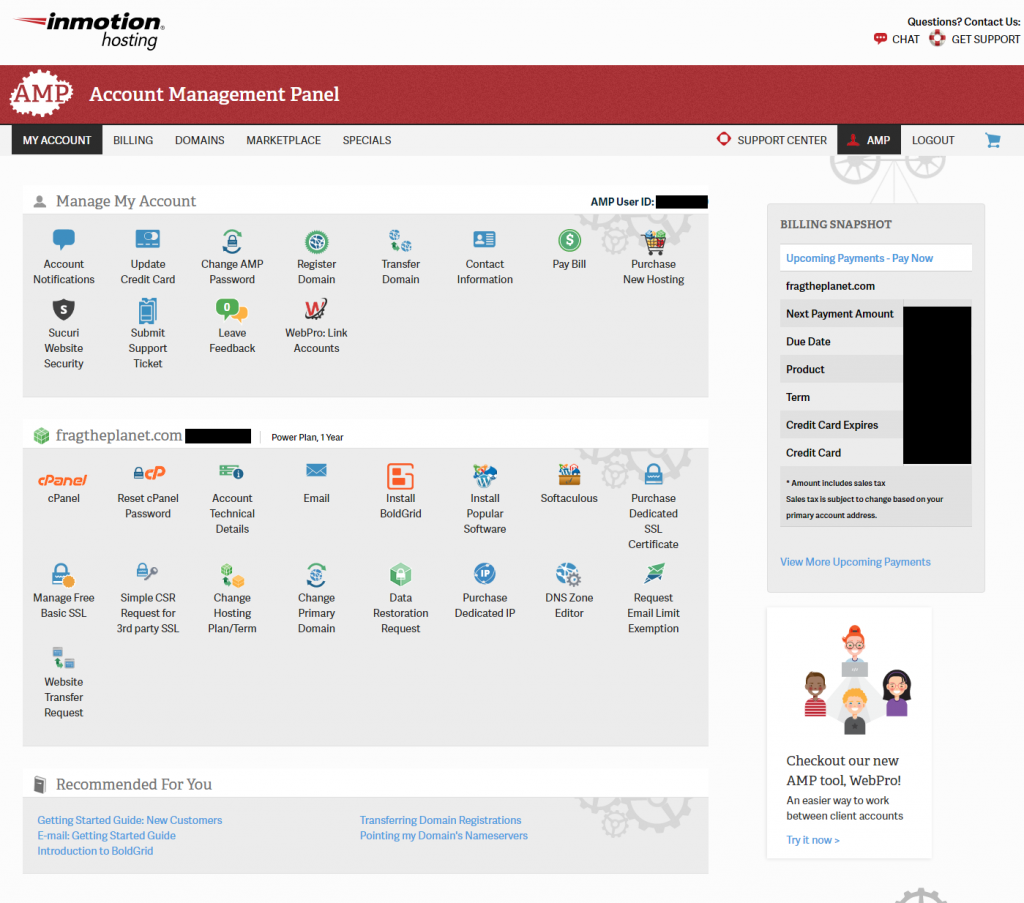 Below is a screenshot of the Softaculous script installer showing a few of the scripts and all of the categories on software available for 1 click installs. At the top of the page it shows how many scripts you have installed and if there are updates available for ones you're currently using.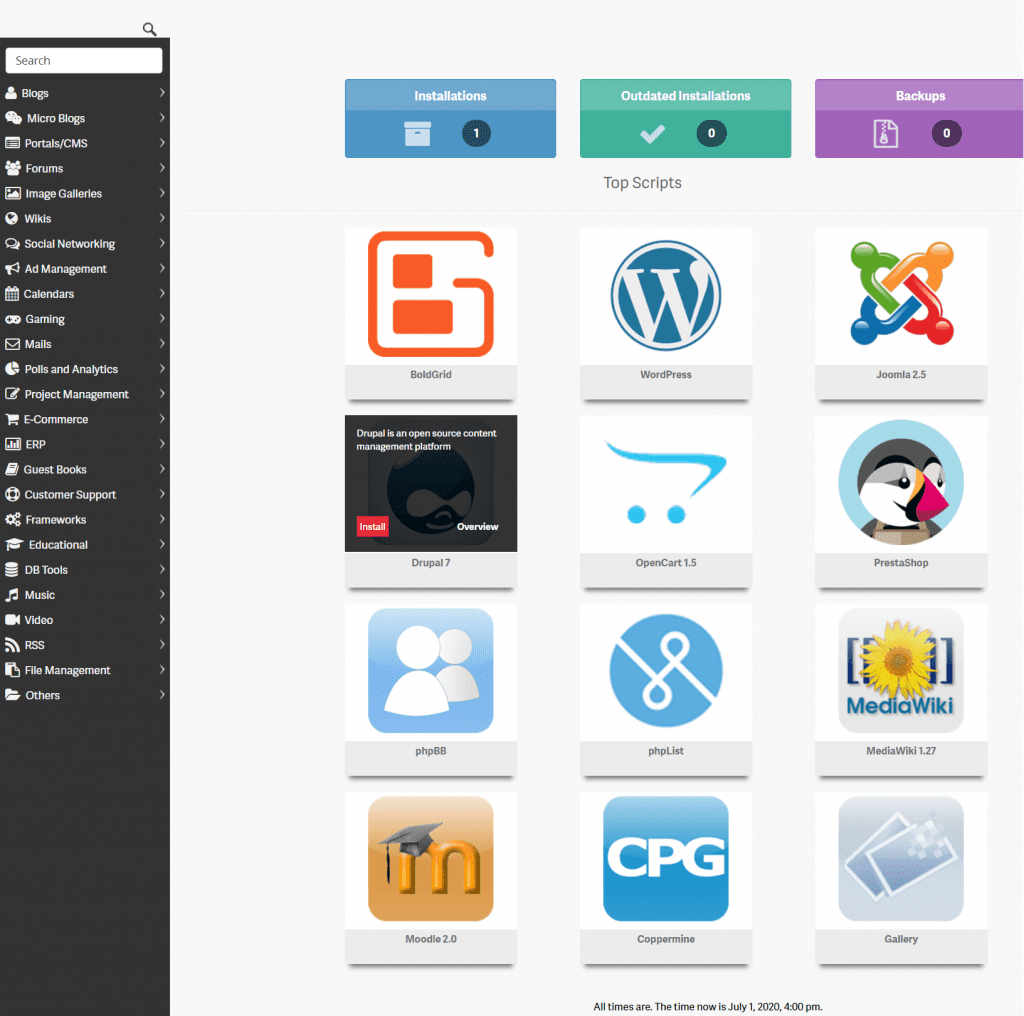 Migrating You're Website
When I decided to leave Site5 I had to migrate 3 websites, 2 databases, and about 75 email addresses with an archive of past emails. While not usually a difficult process, I had to migrate my buddies company and all his employees with as little downtime as possible. InMotion Hosting helps make this a more seamless experience by offering migration from many popular web hosts. Even if your web host isn't listed the old tried and true manual Export and Import will work fine. Just make sure you check that everything is working nicely before you point your Domain Nameservers to your new InMotion account.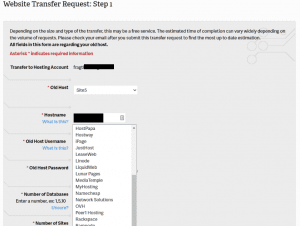 InMotion Hosting Support
The support page is very simple but has everything from knowledgebase FAQ's, support blog posts, live Chat options, and even 24/7/365 Phone support! How great is it to be able to speak to a live person nowadays.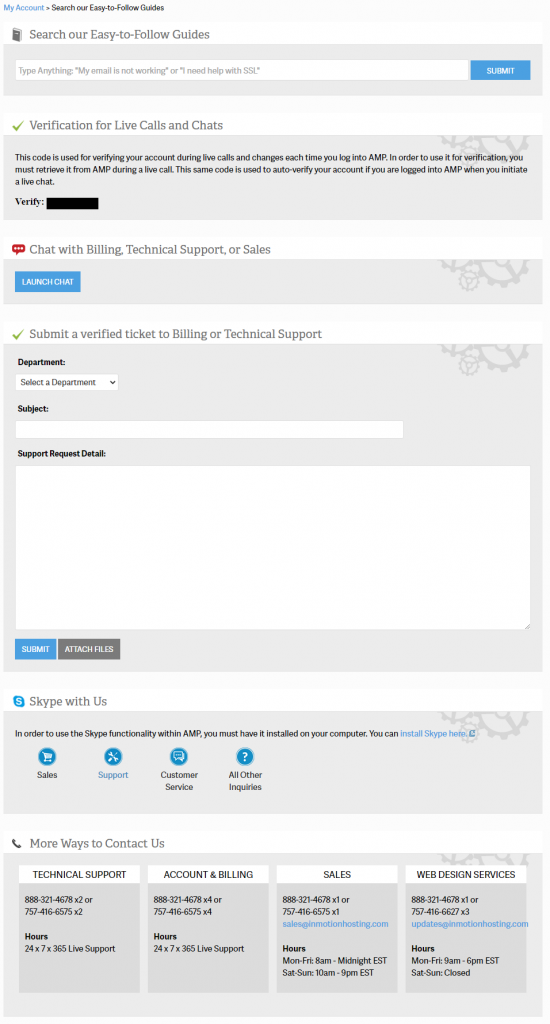 Conclusion
Is InMotion Hosting perfect? Not yet, but in my opinion they're one of the best choices you can make when choosing a web hosting company. The support is there, the speed and reliability are top notch, and any issues I have had were resolved quickly and professionally. I wish I was able to choose the WordPress package for the speed optimizations, but I wasn't able to because of needing to run a few other html websites, other than that I highly recommend InMotion Hosting.
If you have any questions please don't hesitate to drop me a line in the comments section below, I'm more than happy to answer any questions I can. If you found this article helpful and would like to use InMotion, please use my referral link as it helps support FragThePlanet. Thank you for reading my InMotion Hosting Honest Review!