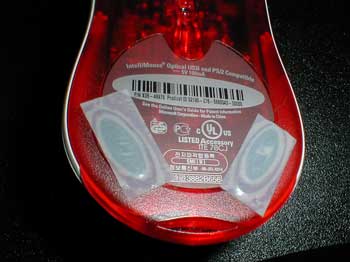 Do you have a Optical Mouse? or just a regular mouse with balls? Are you having problems with sticking rodent feet or getting sick of cleaning them all the time? Do u have a Ratpadz or an Everglide?  Just the other day my friend introduced me to this teflon tape and I have to say, it feels like my optical intellimouse mouse is sliding on silk now. Here's the nitty gritty and some pics on the stuff.
Check out what [H]ardOCP.com has to say about our tape.
"We are of course big fans of high performance mousing surfaces. In the last year you have seen some products come out that are Teflon strips that you use to cover you existing mouse feet if worn or you just want that extra slippery feeling. I have tried nearly every one out there and the guys over at FragWare have what is no doubt the best Teflon Mouse Tape product on the market. Kudos guys, we have been testing this stuff for months now and your does not peel off our get gooey on the edges like your competition. If you have not given this a try, it is worth the cash if you want precision mousing." – Kyle from Hardocp.com.
As far as I can tell its just like regular tape with a Teflon coating, the tape I used is 1/2 inch wide and .005mm thick, so its a decent size. I've been using it now for a week or so on my mouse and it doesn't look like its wearing at all.
This yellow bumpy stuff is the backing that you peel off and throw away, its just like a thin layer of plastic that comes right off.
All I did was just cut about four 1 inch sections to cover my already existing mouse feet. I suppose you could get rid of your old mouse feet and just use this tape, but thats really up to you. It seems just fine covering my mouse feet as seen in the pic below. Just make sure that you clean the bottom of your mouse thoroughly before applying this tape to make sure u get a good stick. You can use just regular isopropyl alcohol, q-tips, and/or paper towels will work. Try and stay away from the optical eye if you have one.
All in all I have to say that this stuff works great.  My mouse glides so smooth and fast that I had to turn down the mouse sensitivities in most of my games to have some control.  It took about 2 days or so for me to get used to handling my rodent again, but It sure is a hell of a lot better then it was before.  If you have a Ratpadz you can slick it up with some Pledge for ultimate gliding action!
It's Priced at $2.99 shipped for 8 inches, usually enough to do 2-3 mice.
This is a lot cheaper then some so called mouse skatez, or probably anything else even close to this stuff.  If you have any questions at all, email me.
I used to have an actual e-store years ago, but that site is long gone. Pieces will be cut in 8 inch strips and are shipped via regular snail mail in US only. You can order multiple pieces if you like.